Sports is one of the most exciting entertainments for many people, especially football. When we talk about football news, we will search for sports websites to find up-to-date information. Sports websites like Hesgoal have provided much latest information and news about sports both for men and women. However, many people would prefer reading news about men's football rather than women's. Even when we talk about football in general, the first thing that comes to many people's minds is men. Why is that?
Even though the first recorded international game of women's football has been started since the year of 1895, women's football continues to struggle to acquire the same acceptability, attention and status as men's. When it comes to women's football, there are plenty of stereotypes to contend with.
Despite being in the industry for over a decade, people still see and view football as the 'male' sport. To this day, women's football is not taken seriously and they were ridiculed, depreciated and judged as unfit for this kind of sport even at the highest administration level.  Football is seen as 'inappropriate for women' because it fits better for men. 
Stereotypes of Women's Football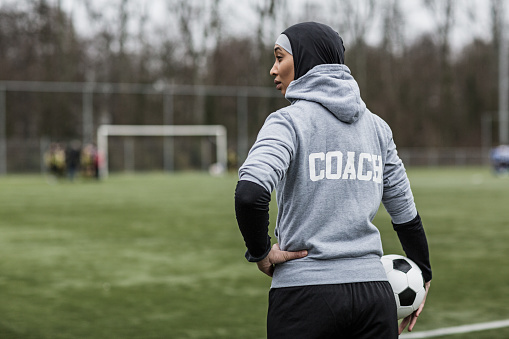 When considering stereotypical males and females have. Generally, females are seen as timid, fragile, soft-hearted, submissive, and fearful. These seem incompatible with a physically demanding sport like football. Male, on the other hand, are viewed as active, rough, energetic, strong, and fast. Stereotypes of women playing football are bigger than you could imagine. Women who play sports in general go through a lot of negative stereotypes. 
1. Not Physically Strong
The stereotype of women being less physically strong than men has been going around for decades and it is still being talked about by people to this day. Many people agree that women's football is too soft and not rough enough for them to enjoy the sport. Another reasons are women's football lacks aggression and blood rush as women are more physically fragile than men. They believe women's football will always be slower and under the shadow, because women have less muscular strength, stamina and speed. 
2. Less Exciting
Try asking your friends who are into football to go watch a women's football match. I would guarantee that they would refuse to go since apparently, it is less exciting than men's football. Some people claim that men's football is more intense and less predictable so it's more exciting to watch. They still see football as a masculine sport with a lot of aggression and strength. But since they think women are less aggressive when playing football, the match will be not as exciting as men's football.
3. Less Spectacular
It is undeniable that football required a lot of athletic skills and strategies in order to succeed. As a result, the stereotype was generally held that women are lousy at football and it could be based on male athletes' superior athletic performance. Since men's football was seen as the 'men's sport', they believe that women have no idea how to play as good as men. Many would think that women's striker who scores those miraculous goals from outside the box would have no chance of standing against the men's professional players in football. 
Why Do These Stereotypes Exist?
Stereotypes towards women have been going around for over decades and to this day it is still happening around the world. Not only in sports, but also in general society. Some of the examples are women should do the house chores, women are more emotional than men and assertive women are bossy and unfeminine. Almost every woman in this world has experienced being stereotyped by people around them. 
Gender stereotypes affect girls' self-esteem and confidence around the world. Especially when it comes to their career and something they love to do. When women are stereotyped, they will be more reluctant to share their ideas, talents and abilities. According to new research, one reason women avoid certain professions is a lack of confidence in their abilities to compete in domains where males are stereotypically thought to perform better.
Sexism Comes in Show
One of the biggest reasons why there are still strong stereotypes about women's football and women's sports, in general, is because of sexism. Sexist behaviour is common on Instagram postings featuring female athletes, and the gender wage gap in professional sports. Female athletes have always received less attention, popularity, investment and wage than male athletes. Systematic abuse, mental health abuse, and the underpayment of female athletes in the sports industry have all been fueled by underinvestment and sexism. These problems have been going around not only among the public but also in the higher institutions.
The Bright Side of Women's Football
Many people overlooked the bright side of women's football. 2019 has been a landmark year for the women's football team and it is believed to grow even more in the future. Even though many people are still stuck with the old stereotypes of women's football, there are still many who still believe that football is a game for all regardless of their age and gender. 
Women's football is such a wonderful leap as it encourages peace, and confidence and focuses more on health benefits and a sense of teamwork. Even between the competitors. Not to mention the fact that, as football evolves throughout the year, it becomes less and less about physical strength and it focuses more on tactics and strategy. 
Let's take a look back at how women football players from Shabab al Ordon Club started to gather around a hijabi player who is struggling with her hijab and form a barrier around her as she put everything back into place. Despite the fact that those players were rivals and that the hijabi woman was not even from the same team, they still supported her adherence to her faith and offered her the privacy she needed at the time. 
The Truth About Women's Football
Women's football is not a new thing and several football clubs have existed for decades. Take the Arsenal Ladies for example. The Gunners were established in 1987, whereas the former was founded in 1972. 
The truth is, women's football is not that bad. It is simply because of a lack of funding, resources and support for decades in women's sports in general. More than ever before, women want to be treated equally. Traditional gender stereotypes are hoped to be reduced and will be less prevalent in the future. It is critical to address these issues in women's sports in order to demonstrate to other women that they are welcome in sports and encourage them to participate.